Run Sam! Ruuuun!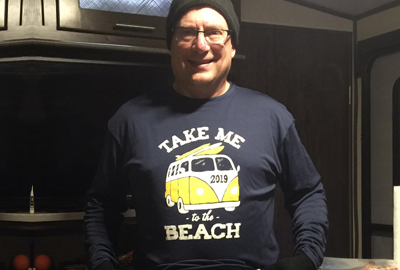 Hey friends! This past Saturday, Sam had a great time running in the
Surfside Beach Marathon
. Sam has been training for the whole year prior to this.
He and Denise got there the say before to camp on the beach. The water was so high they wondered if they would find a spot! At 2am they got up and had some eggs and by 5am they were at the beach. Sam said this was the early bird time for the older group.
It was so windy and cold they wondered if there would be a good showing, but soon everyone was there and off they went. Sam says he actually loved the weather. The first hour and a half was dark but eventually the runners enjoyed a beautiful sunrise over the beach. Sam said his technique has improved a lot and he did a much better job of staying hydrated this time.
The total run was 26.2 miles and Sam came in at 6 hours, 49 minutes, 33 seconds. He reports meeting a lot of really nice people and had a great time.
We're all proud of Sam - Congrats to him and all the runners!
No comments
Leave a reply
Get your technology questions answered with a free on-site, in-person meeting!